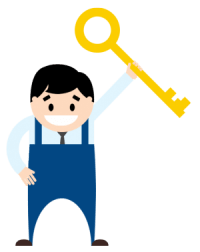 Find a Locksmith In your area
Did you know that locksmiths were used hundreds of years ago? A Locksmith was a very honorable and important skill that not very many people had. There's so many cool and interesting facts about locks and locksmiths that a lot of people don't know! Here we share with you some pretty awesome locksmith facts.
Fun Fact #1
King Louis the XVI was a Locksmith who acquired his skills out of pure interest and often duplicated keys for fun.
Fun Fact #2
The ancient Egyptians made the first recorded wooden lock, the oldest lock in history is over 4,000 years old.
Fun Fact #3
In mythology, keys and locks have always had a certain mystique. Holding keys represents power, authority and security. The gods themselves, along with goddesses and saints, are believed to hold the keys to the Kingdom of Heaven.
Fun Fact #4
Magician Harry Houdini was trained as a Locksmith at age 11 and practiced escaping from countless real locks.
Fun Fact #5
Mr. Samuel Segal (a former New York City policeman) invented the first jimmy proof locks in 1916. Segal holds over twenty-five patents.
Fun Fact #6
In Ancient Rome, women were the keepers of the keys. They sometimes wore rings of keys attached to their hair pins
Fun Fact #7
One of the basic lock designs is the lever. A small lever made of metal works with a bolt, and this design dates back to the Roman Empire.
Fun Fact #8
Locksmiths can duplicate almost any key!
Fun Fact #9
There is a lock picking championship, called the Dutch Open (organized by TOOOL) that began in 2002 and hosts competitors from around the globe.
Fun Fact #10
Pad locks were very popular among merchants and travelers and were often intricately and beautifully decorated.
Fun Fact #11
Early metal locks were artistic with remarkable geometric shapes and symbolic representations of animals and religious images.
Fun Fact #12
Locksmiths are very educated! They combine the trades of a carpenter, mechanic, machinist, and security expert.
Fun Fact #13
Traditionally, a locksmith did not only help to open and install your locks, but built them by hand, including customized designs.
Fun Fact #14
Keys can be double sided or four sided, for extra security depending what you prefer.
Fun Fact #15
Romans used to wear keys as rings as symbols of wealth, and for security.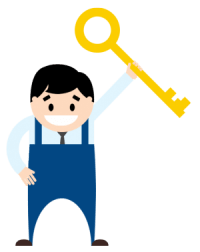 SCHEDULE SERVICE WITH 24 HOUR LOCKSMITH PROS TODAY