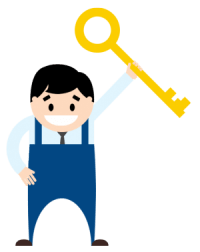 Find a Locksmith In your area
We provide complete locksmith services. We are an automotive locksmith company that can get you back in your vehicle, as well as provide for all your home and business security needs. To familiarize our customers with the products and services we offer, we've provided the following locksmith glossary.
A
Americans with Disabilities Act (ADA)
a US Federal law regulating building access for those with physical disabilities.
Anti-passback
systems which prevent using the same access credential consecutive times
Associated Locksmiths of America
national organization driving advancements through industry training
Annunciator
device emitting both visual and audio signals
B
Bait and Switch
an unscrupulous practice where a low price quote is given then increased when work is done.
Biometric lock
a lock using a physical characteristic such as a fingerprint rather than a key
Bit and Barrel Key
a skeleton key which serves as a master key
Blade
bitted section of the key inserted into the lock
Bump key
a key for easily opening a pin tumbler lock.
C
Chamber
the cavities in the cylinder where springs and pins set when in the unlocked position
Control key
a key used to remove the inner part of a lock cylinder
D
Deflector cover
metal shield which prevents drilling a safe
E
En suite
describes a lock that's part of a master lock system
G
Grand Master Key
the key which opens every lock when there are more than two access keys
I
Immobilizer
device installed in automobiles that prevents hot wiring
K
Key Code
alphanumeric code used to identify unique cuts to reproduce a specific key
Key shoulder
edge below the handle of the key that prevents the key being pushed too far into the lock
Key Way
part of the lock cylinder where the key is inserted
M
Mortise Lock
a single hole on the door frame which the lock is installed in, more secure than a bored cylindrical lock
P
Plug spinner
tools used to spin the cylinder and make the bolt retract
R
Re-Key
resetting the tumbler of a lock to use a different key
Relocker
a mechanism in a safe that automatically re-locks the bolt in case there is a forced entry
S
Sash Lock
a mortise lock which has both a key-operated bolt and a latch
Smart key
wireless device which can unlock a car door and activate the ignition without a physical key
T
Transponder Key
electronic frequency that signals the car's computer so that only that key will work
Tumbler
a lock using a physical characteristic such as a fingerprint rather than a key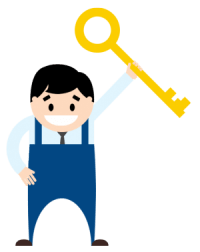 SCHEDULE SERVICE WITH 24 HOUR LOCKSMITH PROS TODAY