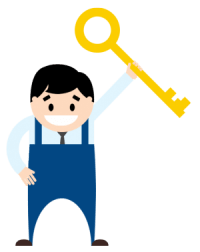 Find a Locksmith In your area
24 Hour Locksmith provides its customers with modern and high security lock and key services.
Put your trust in our capable and professional technicians to provide you with the most current options on the market and tailor your locks to fit your needs.
Deadbolts, master key systems, keyless entry, and CCTV systems are just a few of the security features we provide.
We are able to offer rekey and replacement services and free assessments of your current lock system. Residential, commercial and automotive locksmith services at your convenience!
Our technicians work with the following lock systems:
Deadbolt and Cylinder locks
CCTV systems
Magnetic doors
FOB and keyless entry
Profile cylinder locks
Master lock and key systems
Access control systems
Smartlock and Bluetooth locks
Biometric locks
We pride ourselves on being the best at what we do. We provide a complete locksmith service, and are licensed, bonded, and insured.
Installing electronic deadbolt locks can be a modern alternative for both your home and business. Electronic deadbolt locks operate similarly to traditional locks minus a physical key and can be reprogrammed easily when needed.
Electronic deadbolt locks are the latest technology on the market and we offer multiple varieties and styles to meet your needs. Keypad locks add an additional layer of security. Even more secure, the latest biometric locks on the market require a fingerprint scan to open doors, ensuring only authorized individuals have the ability to enter.
We can help you install a keyless entry system or even a bluetooth lock. Bluetooth locks are unlocked via your smartphone from anywhere in the world, granting you control 24 hours a day! These locks are great for allowing you to open the door for guests when you are away without having to give away a set of keys.
Types of Smart Locks we carry:
Biometric locks
Bluetooth security systems
Cryptographic keys
Profile cylinder locks are also known as Euro-Profile Locks. The security provided by cylinder locks has no rival in traditional lever locks because cylinder locks are manufactured from heavy metal. These locks are very tough for thieves to pick. Being surface mounted, they have no edge to pry against making these a great choice for your business security. Our locksmiths are well versed in cylinder locks, and handle high demands for securing homes, office space, retail stores, and manufacturing and commercial buildings.
Cylinder locks are perfect for allowing variable access for different personnel with the same locks, but with different keys via a master key system. This enables the use of master keys for all-areas access, but limited access to specific personnel, repair contractors, temporary workers, etc.
We guarantee our pricing and our service. We will assess your locks and recommend only the necessary repairs or installation to make your property safe again. Our decorative styles and metal finishes are designed to match whatever decor you have and fit both exterior and interior locks. Call us today for a security audit and quote for profile cylinder lock installation in your home or business.
Deadbolt locks are a great security feature for homeowners and businesses. We have been installing and repairing deadbolt locks for years and our experience shows in the quality of service we provide.
A deadbolt lock has a steel bolt that goes into a strike plate on the door frame when locked. We work with both single and double cylinder deadbolt locks and are proud to offer keyless varieties of deadbolt lock as well.
It is imperative that a deadbolt lock be installed correctly so it maintains maximum security. Deadbolts provide consistent protection and security for residential and commercial properties.
We stay on the cutting edge of technology and our technicians keep up-to-date on all of the latest techniques. Rest assured that our skilled technicians will install your new deadbolt locks correctly and fix any issues with your current deadbolt locks.
You will be further assured to know that all of our services are guaranteed. We have a great reputation for quality work and we maintain that reputation by providing affordable solutions for businesses and residential properties. Call us 24/7 for more information or to schedule a security audit!
We install and repairs mortise locks for residences and businesses regularly. Working on this type of high security, complex lock remains one of our specialties and most sought after services. Due to the complexity of the work involved, mortise locks require the assistance of a locksmith.
The lock mechanism is totally concealed within a narrow cavity, or "mortise", making this type of lock hard for anyone to break open. The internal locking mechanism generally uses a Lever Lock of level 5 for maximum assurance. Providing excellent security, many locksmith professionals prefer it over other types of locks widely available on the market today.
We provide numerous finishes that include brass, aluminum, steel, chrome, and nickel. We will also upgrade any of your existing locks to replace it with a finish that suits your interior decor better, if your company prefers this option. Installing a mortise lock can significantly enhance business security, and still mesh well with decorative requirements! Our licensed, bonded, and insured company maintains a great service satisfaction track record. Call today for a free audit!
Our specialists install high security Grade 1 locks daily in office and commercial environments. Our large variety of price ranges and types includes locks with extra-long bolts, reinforced plates, extra-long screws, and anti-pick pins to give you peace of mind and extra protection.
No matter what the circumstances, whenever you need us, we guarantee a 30 minute or less response time. Malfunctioning locks, security breaches following an attempted burglary, or just upgrading your current lock systems our professional staff offers fast and friendly service and upfront pricing.
A magnetic door lock can provide easy access while securing a door. This is a great lock to use in a space that needs to be accessed often. Surface mounted magnetic door locks come in fail safe and fail secure options so you never have to worry about the strength of your door.
Our trained and licensed staff will be in your business with as little disruption as possible because we value your time! We provide services 24/7 if you encounter an emergency that cannot wait until regular business hours. Don't leave your business exposed without security and trust that we can provide the right solutions for you on an emergency basis.
A magnetic lock uses state of the art technology, and we can guarantee the work done will be done right with your 100% satisfaction in mind.
Hotels, office spaces, and schools are great examples of the types of business that can benefit from this lock system. Maintenance, housekeeping, and security staff need to have access to all rooms while still limiting access to others. Master key systems provide a key that only unlocks only specific rooms; however, staff can have a key that can unlock all doors as needed.
This lock system keeps your space secure and still accessible. Master key services are one of our specialties and a regularly provided service. Put your faith in us to get the job done right every time.
Your emergency is our emergency and we take your concerns seriously. We work around the clock to make sure you are happy. We specialize in master key systems, but also install and repair a variety of different types of locks. Don't take your business' security for granted and  trust us for your complete locksmith service to keep your business safe and secure.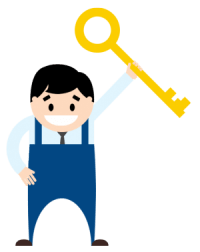 SCHEDULE SERVICE WITH 24 HOUR LOCKSMITH PROS TODAY